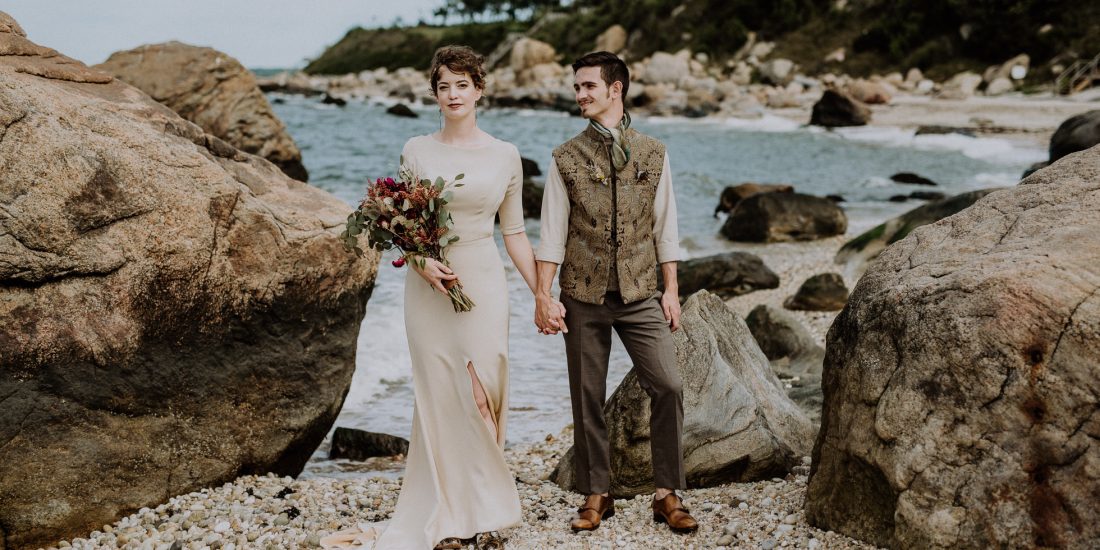 It only took us about a year but here we are now finally blogging one of our favorite weddings to date. You may have already seen this wedding featured on Together Journal but we figured it was time to get it up on our website.
Meg & Hal's Southold Wedding was basically everything we love rolled into one amazing day. Let's start with their getting ready location- a small cottage on Southold Bay that has been in Hal's family for decades. We're suckers for getting ready spots that are meaningful to the couple so this struck the right chords from the start. Meg along with her close friends and mother got dressed in the small dwelling that morning. Bonus tip- the cottage had lights of natural light and that's a winner for photos. 🙂
Once Meg had gotten into her custom made wedding dress & paisley boots, we headed over to 67 Steps Beach for a first look with Hal. Let's take a second and appreciate how creative and stylish their wedding attire was on this day. We remember Meg telling us at their engagement session that it all started with her paisley boots as the inspiration for the rest of the wedding day clothes and decor. Hal wore a paisley vest with a dyed scarf to complement Meg's boots & dress- coordination & style to the max.
It's rare for us to work with a couple that just knows exactly what to do in photos but these two definitely had "it". Their first look and portraits are up there as one of the best sets we've shot and a lot of it had to do with their connection & flow. Once these photos were done this Southold Wedding was ready to start so we headed to Founder's Landing Park for their ceremony and reception. Hal hand made the ceremony arch out of driftwood collected in Southold- how amazing is that? And once the ceremony was over, instead of coming down the aisle Meg & Hal ran through the ceremony arch and took a canoe out into the water for some alone time.
The rest of this outdoor wedding reception was amazing, especially with all the DIY elements that Meg & Hal put together for the tables and decor. A lot of time & planning went into this Southold Wedding and we think every second of it was worth it.