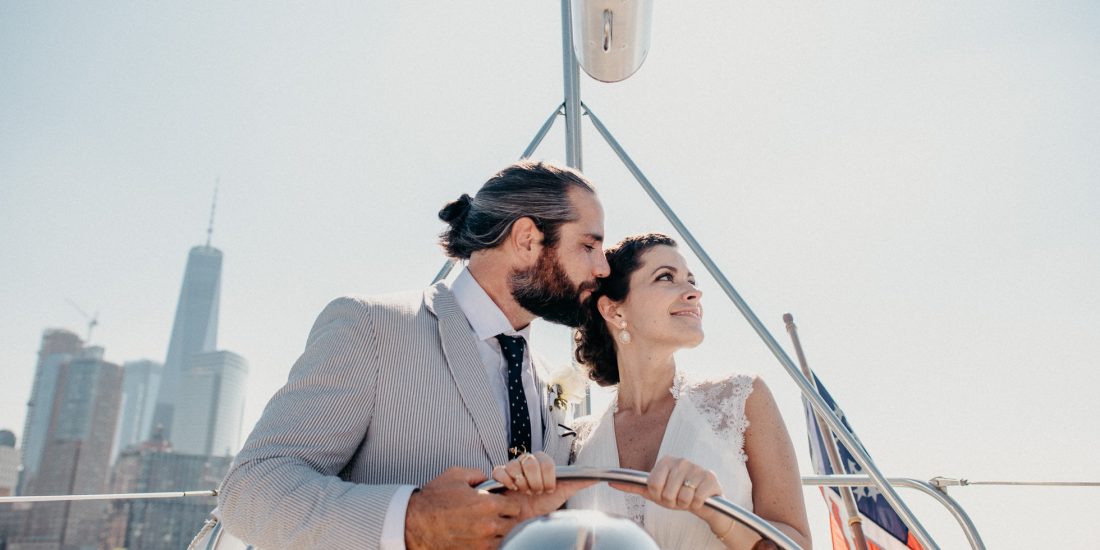 We remember our first contact with Christina & Eric so well- it was a phone call one evening to get to know each other better and to see if we were a good fit for each other for their upcoming NYC yacht wedding. Their enthusiasm was off the charts and they were genuinely just so damn nice; we got off the phone and one of us remarked "I love them- we need to shoot this wedding". Oh and that yacht that the ceremony was going to happen on? It just so happens that Eric owns and charters it around Manhattan as his career after leaving corporate America to pursue his dream. We can't recommend him enough if you're looking for a fun experience led by an amazing dude, hit him up and let him know we sent ya if you do: Narwhal Yacht Charters.
So the plans were in place for the ceremony to happen on the yacht on a sunny Sunday in September with a larger reception that night in Manhattan but mother nature had some different ideas in mind. Christina's parents live in Puerto Rico and Hurricane Maria was going to hit land there the same day the family was going to fly out to New York. The whole country came to a standstill and all flights were cancelled- this was devastating not just because they couldn't make it but more seriously because of how large and dangerous of a hurricane that was projected. So Christina & Eric called us up and let us know they planned to move the yacht ceremony to Monday hoping that mom & dad would be able to get to New York by then; we let them know that we would be there for both days and that we had their back, no questions asked.
Things got flipped around a bit so Sunday became the party day with Monday scheduled for the ceremony on the yacht under the Brooklyn Bridge. Day 1 went off smoothly with Christina & Eric having their first look right outside their hotel and then some portraits on the Highline and ending at The Park NYC. During the party that night, Christina got the news that her parents were able to get on a flight and would be there for the next day- imagine the emotions and relief after hearing that. Day 2 was basically a dream- sailing on a yacht with two amazing people and their closest family members around the island of Manhattan in perfect weather while they exchange rings and vows. Let's cut the talk and look at some photos now.