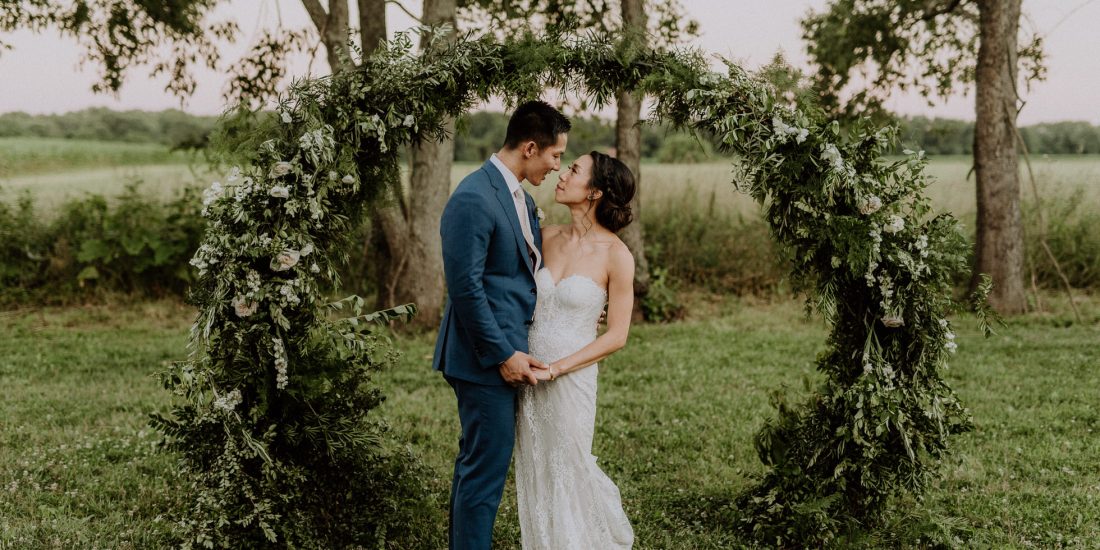 Jean & Patrick had their official wedding ceremony back in NYC (if you missed it, go check out their New York City wedding day here: Jean & Patrick Pt 1). But now let's move on to day number two which was their Updike Farmstead wedding out in Princeton, New Jersey. This place was the perfect canvas to bring alive their dream of having a homespun Tuscan wedding day. Between the old barn, the endless green fields and the beautiful florals this property has it all for rustic events. You probably know by now that we're all about down to earth vibes so this was our type of celebration.
J&P got ready at a hotel right in Princeton and then they had their first look in front of these massive columns at the nearby Princeton Battlefield. It seriously never gets old capturing the moment when our couples see each other for the first time- I mean, just look at Patrick's face upon seeing Jean. We then headed back to Updike right after for some more portraits and bridal party photos around the property. The ceremony site was right behind the barn on the property- a picturesque spot with tall trees right behind their floral ceremony arch.
The rest of their Updike Farmstead wedding was basically a big party- lots of incredible food, emotional toasts and crazy dancing. But the best part- the Mister Softee truck that showed up after dinner. We don't know about you but hearing that jingle takes us right back to our childhood waiting for the truck to come by on a hot summer night. Let's just say it was a huge hit… and hell yes we got dip cones. A camera in one hand and an ice cream in another is the right way to photograph a wedding.