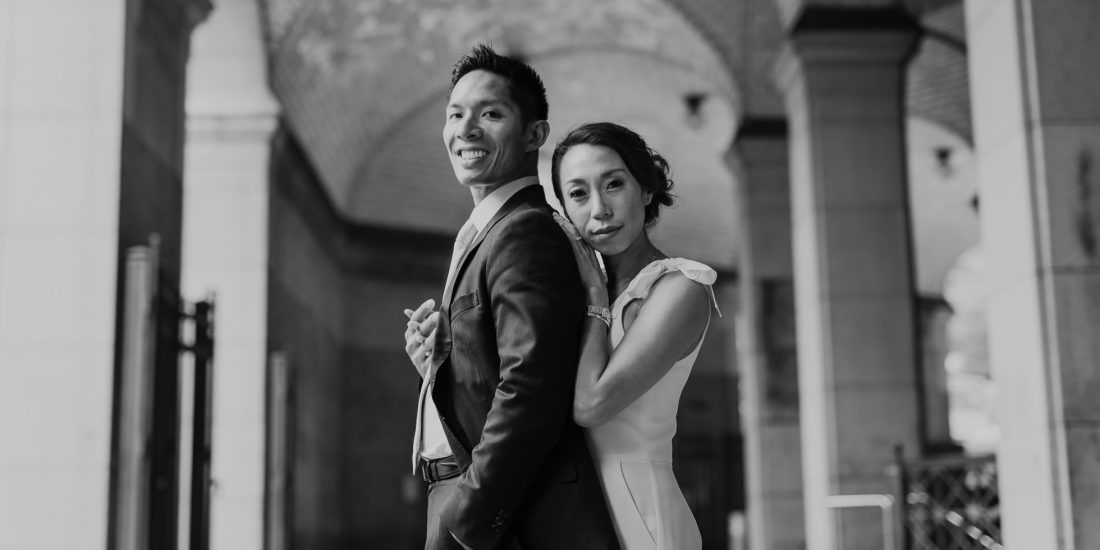 So we're doing something a little different with this blog. Jean & Patrick had us cover two separate wedding days so it would only make sense to split this up into two parts. Let's start with day 1 which was their New York City wedding. They made it official at City Hall first thing in the morning and then later we met up near there to take some wedding day portraits. Since it wasn't exactly their full blown wedding, this day had a super relaxed feel. Think of it kind of like an engagement session.
Jean & Patrick decided to hit up some of their favorite spots in Manhattan and we didn't mind that one bit since a few them happen to be ours too. If you know us by now, you know that food is our true passion. Lucky for us, these two foodies found us and brought us along to document their days. After we took some photos near City Hall and in the subway, we made it over to the Union Square Greenmarket. J&P come here often to shop for the amazing produce available. We can't say enough about how enjoyable it is to photograph our couples in their favorite daily spots. There's no pretension and posing, it's just them being themselves. Even better is when they bring their cute dog Karl along- he may have stolen the show in some of these photos.
Our next stop was Maialino which is one of our favorite NYC restaurants. J&P come here for drinks and snacks often (Aperol Spritz anyone?). Right after, we headed down the street to the Freehand Hotel. The decor in this place is off the charts: lots of funky art, amazing plants and old school charm. We ended the day at Gramercy Park which is not the easiest park to get into; luckily they had a hookup to get us in there. Jean got Patrick a very special watch as a surprise gift and we captured the excitement when she presented it to him in the park- we think the reaction speaks for itself.
Stay tuned for Part 2 next week for Jean & Patrick's Tuscan themed barn wedding.