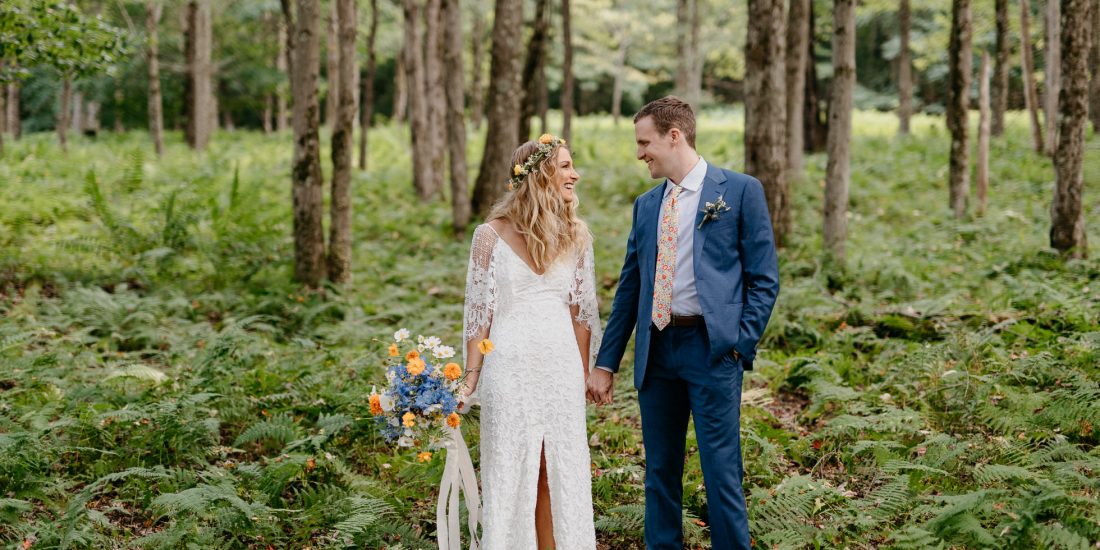 The summer of love. You know- peace signs, tie dye shirts and VW buses. It just so happened that Lindsey & Ben set their wedding date for the 50th anniversary of the Woodstock Festival and they didn't even realize it at first. After learning that, they rolled with it and reimagined their Handsome Hollow wedding to fit the theme and vibe of 1969.
A lot goes into planning any wedding but imagine trying to source items that fit the feel of a Woodstock wedding- not easy. Lindsey handmade some of the details for the reception and had some help from the team at Chippy White Table to bring her vision to life. It's not as simple as just seeking out hippie wedding decor pieces to make it all work- there has to be a cohesive feel to it all. Small things like macrame table runners and colorful tapestries made everything flow together perfectly.
But let's not forget what really made this day special- Lindsey & Ben. Having a Woodstock wedding would be disingenuous if these two weren't as loving and pleasant as people. From our first phone call to connect with them, we knew they were as kind and friendly as could be. Finally meeting them on their wedding day confirmed all of this. It also became immediately obvious how in love they are once we had them in front of our cameras. From their first look on the porch of the farmhouse until the last minute of the reception, these two were completely in sync. It was most evident at their ceremony in the middle of the woods- let's just say there were not a lot of dry eyes in the crowd as they said their vows.
It's time to let the photos do the talking with this Handsome Hollow wedding.