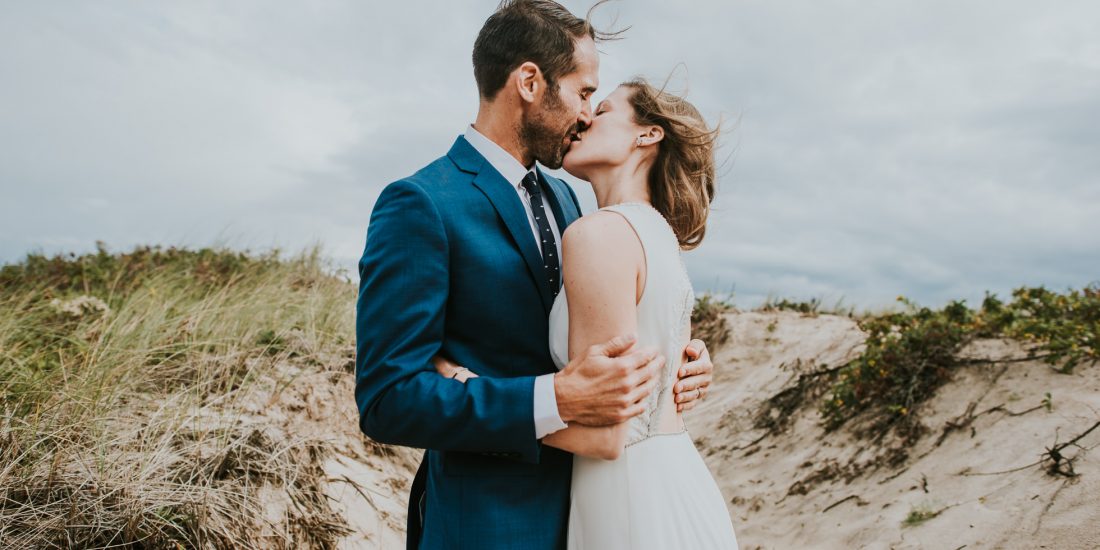 Have you ever been completely overwhelmed with choices, all of them being so good that you can't decide on what to pick? That's what we were feeling when we were going through Annie & Reece's wedding photos to put together this post. These two dudes have a deep connection with the ocean- they're avid surfers and ocean conservationists- so it made perfect sense for them to have a Surf Lodge Montauk wedding. This place fit their vibes so well with all of the surfing decor, vibrant colors and laid-back mood.
Annie got ready in a private home while Reece prepped at a nearby hotel on the water (naturally) and then all the emotions kicked into gear for their first look right outside the house. Although the original plan for the ceremony was to get hitched on the cliffs of Camp Hero overlooking the ocean, the rainy forecast threw them a curveball and it was moved to the Surf Lodge where the rest of the party was happening later. This made no difference- the ceremony was filled with all the feels; we caught so many guests crying, laughing, smiling- the whole gamut of positive vibes was on display.
We've already mentioned the ocean and how much these two love and care for it so obviously we had to steal away after the ceremony and head down to the shoreline. We took a ride over to Kirk Park beach in Montauk and got in the sand for a bit and we mean that literally. We walked down to the water so that Annie & Reece could put their feet in and a large wave came in so we had to scoot backwards quickly- Jennie took a nice dive right into the sand, not her proudest moment but it was all worth it.
We headed back to the Surf Lodge and the party got started- these people know how to get down! The funny hats and costumes, conga lines and limbo, crazy dance moves (including on top of tables)- this reception was such a blast that we almost put our cameras down and joined in the fun. Annie & Reece are two incredible souls and we're so grateful to have been able to capture their Surf Lodge Montauk wedding.